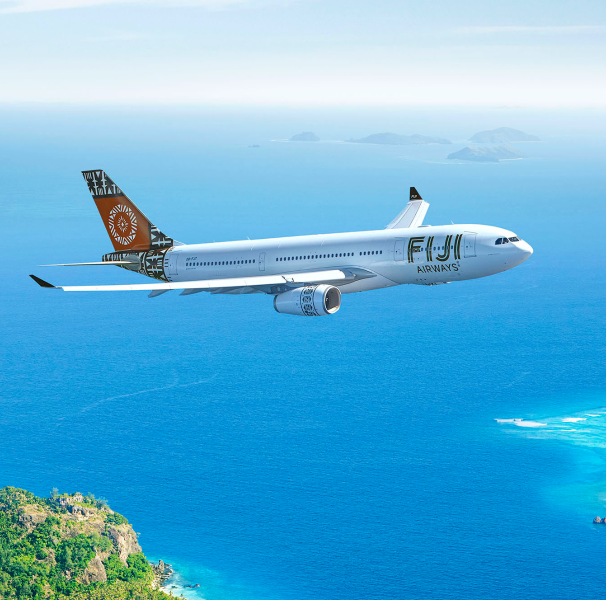 At a glance
21

Destinations

13

Countries/Territories

Tabua Club Plus

Programme de fidélisation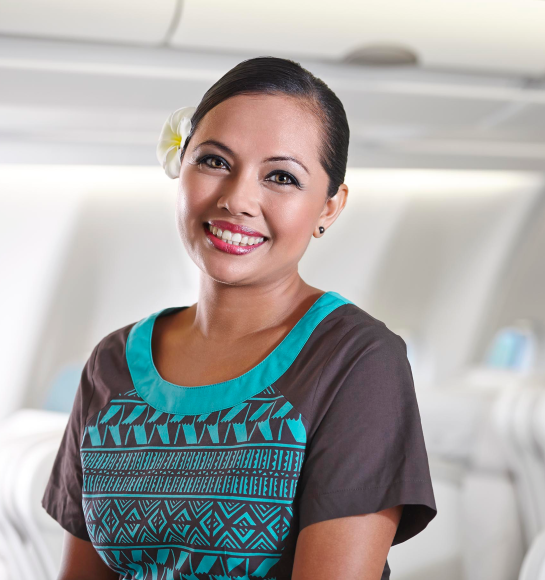 Pick and cruise.
Le groupe opère une flotte de 16 avions, dont quatre Airbus A330 et cinq Boeing 737 de nouvelle génération, proposant deux classes (Affaires et Economie) sur la plupart de ses itinéraires internationaux, avec des sièges qui se transforment en lits horizontaux sur les long-courriers.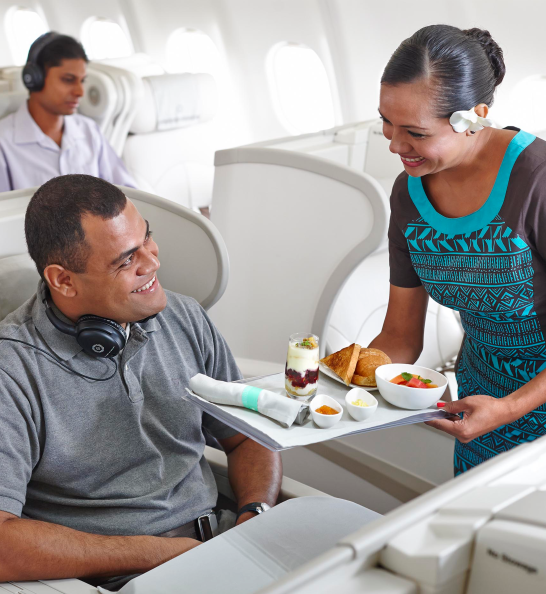 Privileges, points and more.
oneworld connect partners provide select alliance benefits to frequent flyers from any oneworld member airline travelling on their flights, with a more extensive range of benefits offered with a subset of oneworld member airlines, known as their "oneworld sponsors".
As a member of Fiji Airways Tabua Club Plus you will receive priority check-in, priority boarding and lounge access (with 1 guest) on eligible flights when travelling on oneworld connect partners American Airlines, British Airways, Cathay Pacific and Qantas Airways.
Lounge Access.
Indulge yourself before departure when travelling on a oneworld connect journey involving Fiji Airways and a oneworld sponsor, either British Airways, Cathay Pacific or Qantas Airways.
Emplacement

Hong Kong (HKG)
Access while travelling
CX flight number/code (FJ operated service):

HKG to NAN
CX flight number/code & CX operated service:

HKG-SIN / HKG-BKK
Eligibilité
Diamond Tier
First/Business Class Lounge:

Eligible + 2 guests
Gold Tier
Business Class Lounge:

Eligible + 1 guest
Emplacement

Bangkok (BKK)
Access while travelling
CX flight number/code & CX operated service:

BKK-HKG
Emplacement

Singapour (SIN)
Access while travelling
CX flight number/code & CX operated service:

SIN-HKG
Access while travelling
CX flight number/code (FJ operated service):

NAN to HKG
CX flight number/code (FJ operated service):

HKG - NAN
Emplacement

Brisbane (BNE)
Access while travelling
QF flight number/code (QF or FJ operated services)
Emplacement

Melbourne (MEL)
Access while travelling
QF flight number/code (QF or FJ operated services)
Access while travelling
QF flight number/code (QF or FJ operated services)
Emplacement

Adelaide (ADL)
Access while travelling
QF flight number/code (QF or FJ operated services)
Access while travelling
QF flight number/code (QF or FJ operated services)
Emplacement

Auckland (AKL)
Access while travelling
QF flight number/code (QF or FJ operated services)
Emplacement

Wellington (WLG)
Access while travelling
QF flight number/code (QF or FJ operated services)
Emplacement

Los Angeles (LAX)
Access while travelling
QF flight number/code (QF or FJ operated services)
Emplacement

Honolulu (HNL)
Access while travelling
QF flight number/code (QF or FJ operated services)
Emplacement

Tokyo - Narita (NRT)
Access while travelling
QF flight number/code (QF or FJ operated services)
Emplacement

London - Heathrow (LHR)
Access while travelling
QF flight number/code (QF or FJ operated services)
Emplacement

Hong Kong (HKG)
Access while travelling
QF flight number/code (QF or FJ operated services)
Emplacement

Singapour (SIN)
Access while travelling
QF flight number/code (QF or FJ operated services)
Access while travelling
QF flight number/code (FJ operated service):

NAN to AU/ NZ/ US
Emplacement

Singapore - Changi (SIN)
Access while travelling
BA flight number/code (FJ operated service):

NAN to HKG/LAX/SFO/ SIN/ NRT
Access while travelling
BA flight number/code (FJ operated service):

NAN to HKG/LAX/SFO/ SIN/ NRT
Emplacement

Hong Kong (HKG)
Access while travelling
FJ flight number/code (CX operated service):

HKG-SIN / HKG-BKK
CX flight number/code & CX operated service:

HKG-SIN / HKG-BKK
Emplacement

Bangkok (BKK)
Access while travelling
FJ flight number/code & CX operated service:

BKK-HKG
CX flight number/code & CX operated service:

BKK-HKG
Emplacement

Singapour (SIN)
Access while travelling
FJ flight number/code & CX operated service:

SIN-HKG
CX flight number/code & CX operated service:

SIN-HKG
Emplacement

Brisbane (BNE)
Access while travelling
QF flight number/code (QF or FJ operated services)
FJ flight number/code (FJ or QF operated services)
Emplacement

Melbourne (MEL)
Access while travelling
QF flight number/code (QF or FJ operated services)
FJ flight number/code (FJ or QF operated services)
Access while travelling
QF flight number/code (QF or FJ operated services)
FJ flight number/code (FJ or QF operated services)
Emplacement

Adelaide (ADL)
Access while travelling
QF flight number/code (QF or FJ operated services)
FJ flight number/code (FJ or QF operated services)
Access while travelling
QF flight number/code (QF or FJ operated services)
FJ flight number/code (FJ or QF operated services)
Emplacement

Auckland (AKL)
Access while travelling
QF flight number/code (QF or FJ operated services)
FJ flight number/code (FJ or QF operated services)
Emplacement

Wellington (WLG)
Access while travelling
QF flight number/code (QF or FJ operated services)
FJ flight number/code (FJ or QF operated services)
Emplacement

Los Angeles (LAX)
Access while travelling
QF flight number/code (QF or FJ operated services)
FJ flight number/code (FJ or QF operated services)
Emplacement

Honolulu (HNL)
Access while travelling
QF flight number/code (QF or FJ operated services)
FJ flight number/code (FJ or QF operated services)
Emplacement

Tokyo - Narita (NRT)
Access while travelling
QF flight number/code (QF or FJ operated services)
FJ flight number/code (FJ or QF operated services)
Emplacement

London - Heathrow (LHR)
Access while travelling
QF flight number/code (QF or FJ operated services)
FJ flight number/code (FJ or QF operated services)
Emplacement

Hong Kong (HKG)
Access while travelling
QF flight number/code (QF or FJ operated services)
FJ flight number/code (FJ or QF operated services)
Emplacement

Singapour (SIN)
Access while travelling
QF flight number/code (QF or FJ operated services)
FJ flight number/code (FJ or QF operated services)
Access while travelling
CX flight number/code (FJ operated service):

NAN-HKG
QF flight number/code (FJ operated service):

NAN to AU/ NZ/ US
BA flight number/code (FJ operated service):

NAN to HKG/LAX/SFO/ SIN/ NRT
FJ flight number/code & FJ operated service